Unique Career and Majors Fair Designed to Give Students a Competitive Edge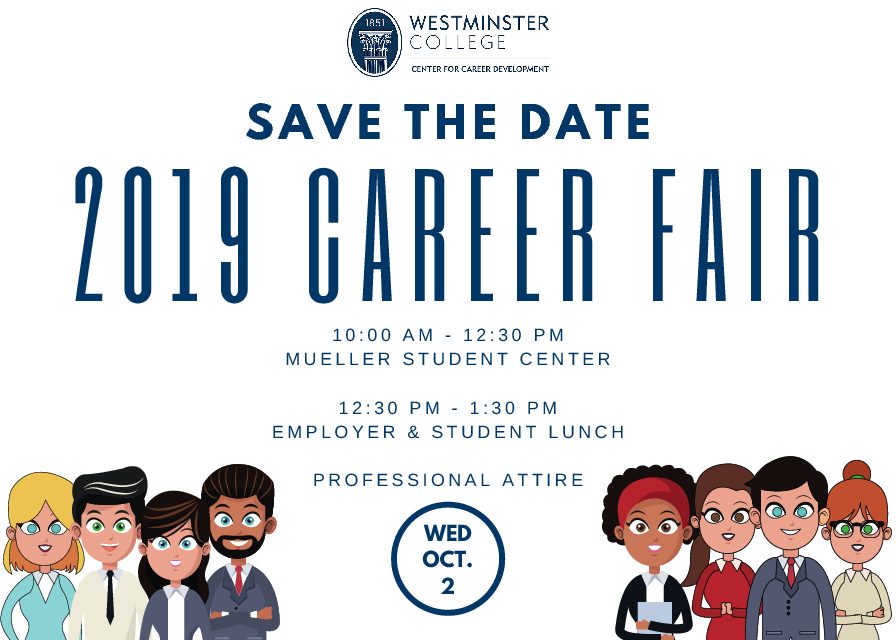 Westminster College's upcoming 2019 Career and Majors Fair is an example of the unique, personalized opportunities for career exploration that students encounter on campus.
Hosted by the Center for Career Development and First Year Experience, the fair will take place from 10 a.m. to 12:30 p.m. on Wednesday, Oct. 2, in the Mueller Student Center. The Majors Fair will take place from 11 a.m. to 12 p.m. An employer-and-student network luncheon will follow from 12:30 p.m. to 1:30 p.m. in Backer Dining Hall.
The event will feature more than 25 businesses and non-profits as well as representatives from academic departments, recruiters from a variety of graduate schools and various individuals from study-abroad programs. Door prizes will be awarded.
Organizations represented include Advanced Technology Services, ALDI Inc., the Missouri State Auditor's Office, the Missouri Department of Natural Resources, Semester at Sea, Westminster's Churchill Institute for Global Engagement and Williams-Keepers LLC, just to name a few.
Mandy Plybon, Assistant Director for the Center for Career Development, is excited that the career fair is geared to all students, not just those currently searching for a job. She says new students are encouraged to participate by focusing on the majors component of the career fair, where departmental representatives will speak with any student who wants to explore the variety of possibilities for majors and minors at Westminster.
"The 2019 Career and Majors Fair is a great opportunity for students to find a major or build their confidence in talking to business professionals," Plybon explains. "And it's a great network for those who are actively looking for a job, internship or other program."
Finally, a new feature of the annual event — the network lunch — gives students an additional opportunity to meet with employers and recruiters. "We really want students to be able to connect with the representatives who will be participating," Plybon says.
For more information on the 2019 Career and Majors Fair, please contact Mandy Plybon at (573) 592-5382 or mandy.plybon@westminster-mo.edu.